Featured Item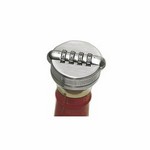 Solid Stainless Steel Combo Liquor/Wine ...
Perfect for securing premium wines and spirits. Locks up a bottle so that only the combination holder can reopen it. Instructions for using and changing the combo are included. 2 3/4" H x 2" Diameter
$15.10 - $18.49
Welcome to Premier Promotional Products, Inc.!
Hi! This is Margaret, Owner of PPP and your personal sales rep. We at PPP take pride in the fact that we listen to our customers. We sift through all of the promotional products in this industry and find that one give-away that will reflect positively on your event or organization. Please don't feel the need to do hours of searching yourself. That's what we do. Just tell us your budget and the audience you are presenting to and we will do the rest.
Give us a chance, we are relationship driven and our main priority is to produce a product that will make you and your company shine. You will never try one of those mechanical internet companies again!
-Margaret and the PPP Team
Signature Showrooms